Sunscreen for Eczema
Soléo was originally made as sunscreen for eczema and other skin conditions that cause sensitive skin, like psoriasis. It also works to support and fortify your skin with botanical extracts. All our sunscreens are for Eczema, but here we've simplified the information and choices.
Our sunscreens are:
- All Natural & Organic
- Antioxidant Rich
- Hypoallergenic & Extra Sensitive
- Broad Spectrum Protection
- Moisturising
- Cooling
AS FEATURED BY

From $34.95 $20.97
Highly water resistant extra sensitive sunscreen. Creamy, and soothing to the skin.
- 100% Natural
- Extra Sensitive
- Creamy Formula
- Very Moisturisring
- Non-Comedogenic
- Rubs in Clear
- Water Resistant Barrier
- Naturally Coconut Scented
SHOP NOW
From $27.95 $16.77
All natural sun protection with cooling, skin supporting botanical extracts.
- 100% Natural
- Extra Sensitive
- Light Formula
- Lightly Moisturising
- Non-Comedogenic
- Rubs in Clear
- Cooling to the Skin
SHOP NOW

From $44.95 $26.97
All natural, sunscreen and moisturiser in one. Formulated for the face with anti-aging oils.
- 100% Natural
- Extra Sensitive
- Extremely Light Formula
- Moisturising
- Highly Non-Comedogenic
- Rubs in Clear
- Anti-aging Oils
SHOP NOW
HEAR ABOUT OUR OFFERS & GET 10% OFF YOUR FIRST ORDER
Sunscreen for Eczema that
Naturally Supports Your Skin
- All Natural & Organic
- Extra Sensitive
- Antioxidant Rich
- Great for Babies too
We've chosen every ingredient to soothe the skin instead of irritating it. Our ingredients are full of antioxidants to nourish and naturally support the skin. All our sunscreens are completely free from chemical UV-absorbers, chemical preservatives, titanium dioxide, parabens, synthetic fragrances & colours, petrochemicals, PABA, SLS, benzoates, mineral oils and synthetic by-products.
SHOP NOW
Sunscreens that help with Skin Conditions
Moisturising and Soothing to the Skin
- Naturally Moisturising
- Cooling on the Skin
- Non-Comedogenic
- Rubs in Clear
Our sunscreen for eczema is formulated to moisturise irritated skin, and naturally provide a cooling effect using ingredients like aloe vera and cucumber extract.
SHOP NOW
Biodegradable, Recyclable, Reef Safe
People-Friendly, Planet Friendly
- Biodegradable
- Recyclable Packaging
- Reef Safe & Ocean Friendly
- Cruelty Free
Soléo does more than just protect you, its formulated to protect the environment too. It's biodegradable, recyclable and reef safe. It's also cruelty free and most of our sunscreens are vegan.
SHOP NOW
Broad Spectrum Protection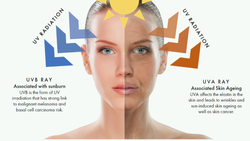 Sharing Australian Innovation
Australian Made to the Highest Standards
- Australian Made
- Exceeding Australian Standards
- Shipped Globally
With some of the highest UV indicies in the world, Australia is the perfect place to develop solutions for every individual. Developed to withstand the harsh Australian sun, we manufacture exclusively in Australia, and ship our sunscreen right across the world.
SHOP NOW
FREQUENTLY ASKED QUESTIONS
Is your sunscreen ok for my baby with eczema?

Yes. It's not just sunscreen for eczema, we formulated Soléo for use on babies, pregnant women, even extra sensitive skin, basically everyone we could imagine. It's just as supporting to the skin of a baby as it is to the skin of an adult, with or without eczema. However we would suggest using our high performance sunscreen, as this sunscreen has the lowest number of ingredients and has better moisturising action due to it's creamy texture.

Which sunscreen do you recommend for those with eczema?

We formulated all our sunscreen for eczema sufferers. However we have listed on this page an even more careful selection. If the sunscreen you wanted to try isn't listed here, you don't need to concern yourself. Those with more severe skin conditions may prefer to lean towards the listed ones though.

If you are particularly concerned about your eczema, we'd suggest you try our high performance or high performance coconut sunscreen first. It has a thicker and creamier texture than the others, but provides a heavier moisturising action, and has fewer ingredients total, which lowers the risk of some kind of unknown allergic reaction to one of the plant extracts (although that is incredibly rare).

What are the risks of not using sunscreen for eczema?

There are several risks to skipping sunscreen due to your eczema.

1. Sun Burn
Sunburn isn't just painful. It damages your skin, increases the rate of photo-aging and increases risk of skin cancer. Irritation from the sunburn and damage, also generally makes eczema flare up.

2. Flare Ups
Exposure to the sun tends to dry out the skin. Even without getting burnt you can expect to have your eczema flare up a bit.

3. Reactions
Using sunscreen, but not a sunscreen made specifically for eczema or extra sensitive skin, can cause flare ups. Ingredients used in sunscreen for eczema are carefully chosen to avoid causing flare ups and irritation. By using a sunscreen for eczema you reduce the chance of having problems significantly.
Recent Articles
Reef Safe Sunscreen – The 2023 Guide
Did you know that it's estimated over 14,000 tons1 of sunscreen enter waterways worldwide every year, both from wastewater runoff and normal sunscreen use. But what is it? Why should you use it? And how do we know it helps the environment?
Non Greasy Sunscreen - Why, How, & Top Picks
Most sunscreen is greasy, how do you choose a sunscreen that isn't? Here we break down everything you need to know about non-greasy sunscreen, what it's good for, how to find it, and our favourites.
Free Shipping
Free International Shipping over $85 USD
Worldwide Delivery
International World Class Delivery.
Follow Us On Instagram
Use #soleoorganics for your chance to be featured!