Coconut Performance Sunscreen
"Applies very well and passed the test during a surf session. Great product" - Donald B



Soléo Organics Natural Sunscreen is the original sunscreen formula by Soléo Organics. The world's most advanced natural sunscreen formulated using naturopathic principles, using 100% natural ingredients without the use of any synthetic uv-absorbers, preservatives or titanium dioxide. This is the coconut version, naturally scented with coconut.

This original formula sunscreen is highly water resistant, allowing hours of worry free time in the water without reapplying. It is also fortified with Vitamin E through many botanical extracts and helps moisturise the skin naturally and naturally coconut scented.

Multi Award winning, this sunscreen has been given a number 1 rating by the EWG (Environmental Working Group), meaning our products contain ingredients that are of low hazard to the environment and your health. The EWG aims to bring awareness to the world about the potential impact different chemicals have on human health and the environment.
It is formulated for sensitive skin and use by all ages including pregnant women and babies, hypoallergenic, naturally formulated, reef friendly, biodegradable and recyclable, cruelty free, made in Australia, acts as a natural moisturiser and protects against both UVA and UVB rays.
AS FEATURED BY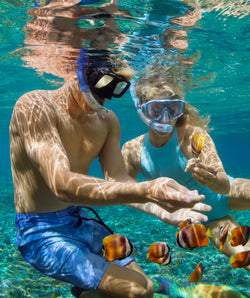 COCONUT SUNSCREEN
Highly Water Resistant
Our coconut sunscreen is formulated to be highly water resistant and not come off even under rigorous physical activity, it's rated to be 3 hours water resistant.
Naturally Coconut Scented
There is nothing like the smell of the tropics, particularly the smell of coconut. The coconut scent in our sunscreen is naturally derived directly from coconut, avoiding the chemicals found in synthetic fragrances.
Multi Award Winning
Soléo Organics sunscreen has won a series of awards as a top rated natural sunscreen, this is the new coconut scented version of this original formula that was awarded by Elle magazine, The Washington Post and with a EWG rating of number 1.
For Every Application
It can be hard to find suitable products when your skin is sensitive, this sun lotion is non-comodogenic and hypoallergenic. We work hard to ensure our coconut sunscreen is suitable for everyone, even babies and pregnant women. However it is normally best to use unscented sunscreen on babies, see our suggested sunscreens for babies.
PEACE OF MIND
All Natural & Organic
Naturopathically formulated, we use only organic and natural ingredients, the scent is also naturally derived and totally free of synthetic chemicals.
No Chemicals & Synthetic Ingredients
Completely free from chemical UV-absorbers, chemical preservatives, titanium dioxide, parabens, synthetic fragrances & colours, nano particles, petrochemicals, PABA, SLS, benzoates, mineral oils and synthetic by-products.
Packed with Natural Extracts
We have fortified our sunscreens with various botanical extracts high in antioxidants and oils which moisturise the skin naturally. The coconut extract not only adds fragrance to the lotion but is also beneficial for the skin health.
Cutting Edge, Broad Spectrum
Soléo Organics sunscreen is a very high protection SPF30, broad spectrum sunscreen, protecting from both UVB rays (sun burn) and UVA rays (aging).
Rubs in Clear
We use a proprietary micro-zinc formula that rubs in clear, while still imparting that fresh fragrance of coconut.
SAFE GUARDING OUR PLANET
Recyclable and Biodegradable
Looking after the environment is important for us, especially with the damage done to our natural environments around tropical and tourist hot spots. All our sunscreens use recyclable packaging, and the formula, as it is naturally derived, is compostable and biodegradable.
Formulated for Everyone
Scented sunscreens are normally avoided by those with any form of allergies or sensitive skin. With Soléo though, we've gone to great effort to keep our sunscreen suitable for the entire family. There are no nano particles in any of our product. We know many people question the safety of chemical products, and research around nano particles can cause people unease both for themselves and the impact they are having on the planet. We have formulated our Coconut SPF to be suitable for the entire family, including pregnant women, so that you don't need to let that impact how you look after your body.
Reef Friendly
The damage to our coral reefs is becoming a global issue, sparking countries like Hawaii and Palau, to totally ban chemically based sunscreens. Being water resistant and with a fragrance associated with the beach, our sunscreen is completely ocean friendly, reef safe and non-toxic, so you don't need to be concerned with what happens when it comes off.
Cruelty Free
All Soléo Organics products are cruelty free, no testing is done on animals and we hold ourselves and our testing to the highest standards in this area.
Reviews
Customer Reviews
01/29/2023
Julie

New Zealand
Best sunscreen ever
Wonderful to apply, lovely coconut smell, no sunburn… best sunscreen ever.
02/07/2023
Soleo Organics Sunscreen
Thanks Julie! So glad you are enjoying your Soléo!
12/28/2022
Malenka

New Zealand
Awesome product-Favourite sunscreen
The coconut sunscreen lives up to the same standard and enjoyment that I have found from the original blend. It is light to go on. Feels like it is nourishing the skin and smells totally like coconut, which is expected seeing its made from coconuts. I would totally recommend it.
01/11/2023
Soleo Organics Sunscreen
Hi Malenka, Thanks for the feedback. So glad to hear you are enjoying your sunscreen!
11/16/2022
Sofia d.

New Zealand
Best natural sunscreen
I've tried many natural sunscreens and this is by far the best. It really does work, even in the middle of summer a day at the beach. I have been using it for many years. It doesn't make your skin field weird like some zinc ones do and it's really nice and moisturising.
11/18/2022
Soleo Organics Sunscreen
Hi Sofia, thanks for the review! So glad your enjoying your sunscreen!
06/03/2022
Gemma B.

New Zealand
Soleo organic sunscreen
Great product, highly recommended Great service
12/09/2021
Donald B.

New Zealand
Sunscreen
Applies very well and passed the test during a surf session. Great product
FREQUENTLY ASKED QUESTIONS
Free Shipping
Free International Shipping over $85 USD
Worldwide Delivery
International World Class Delivery.