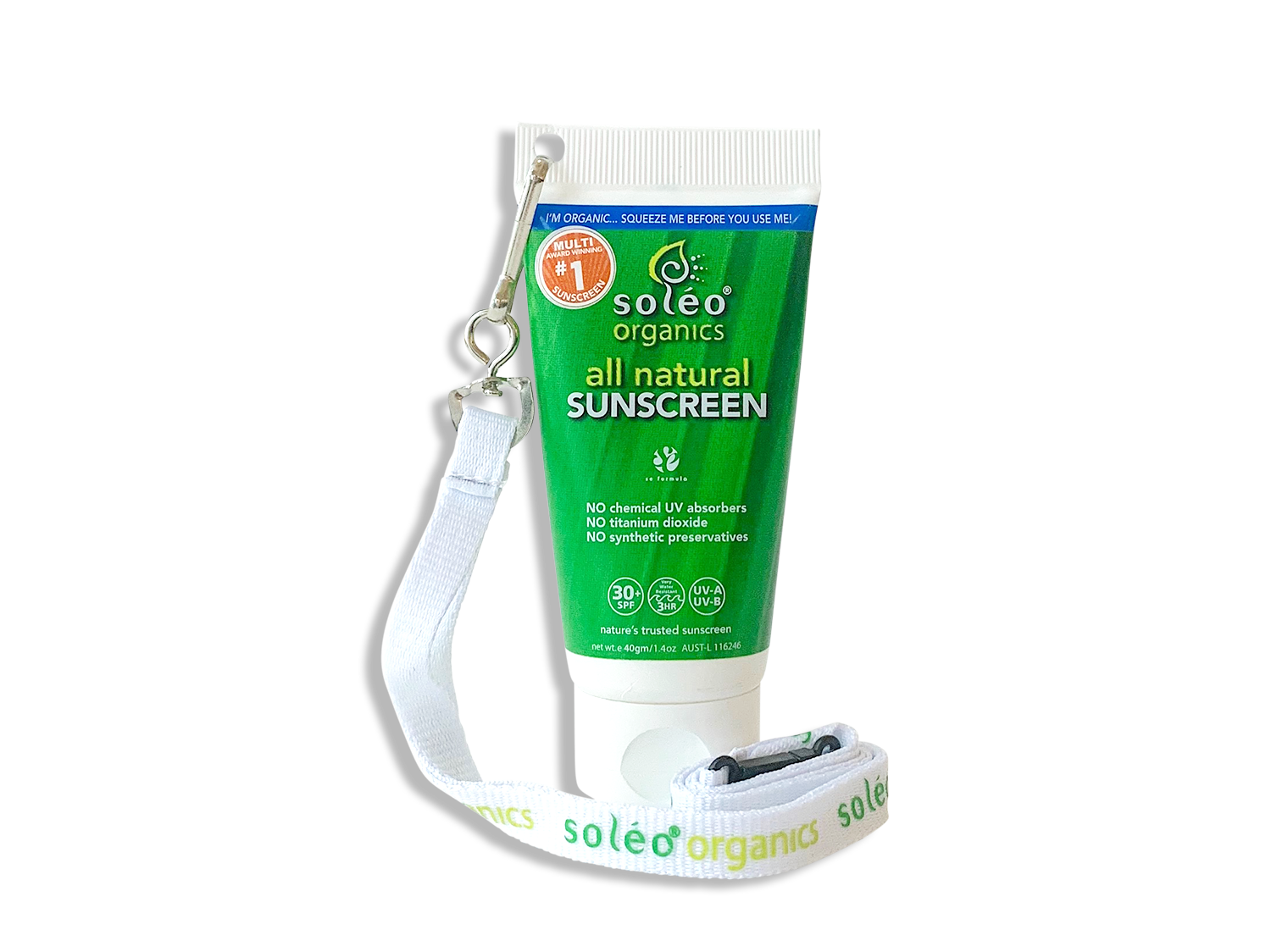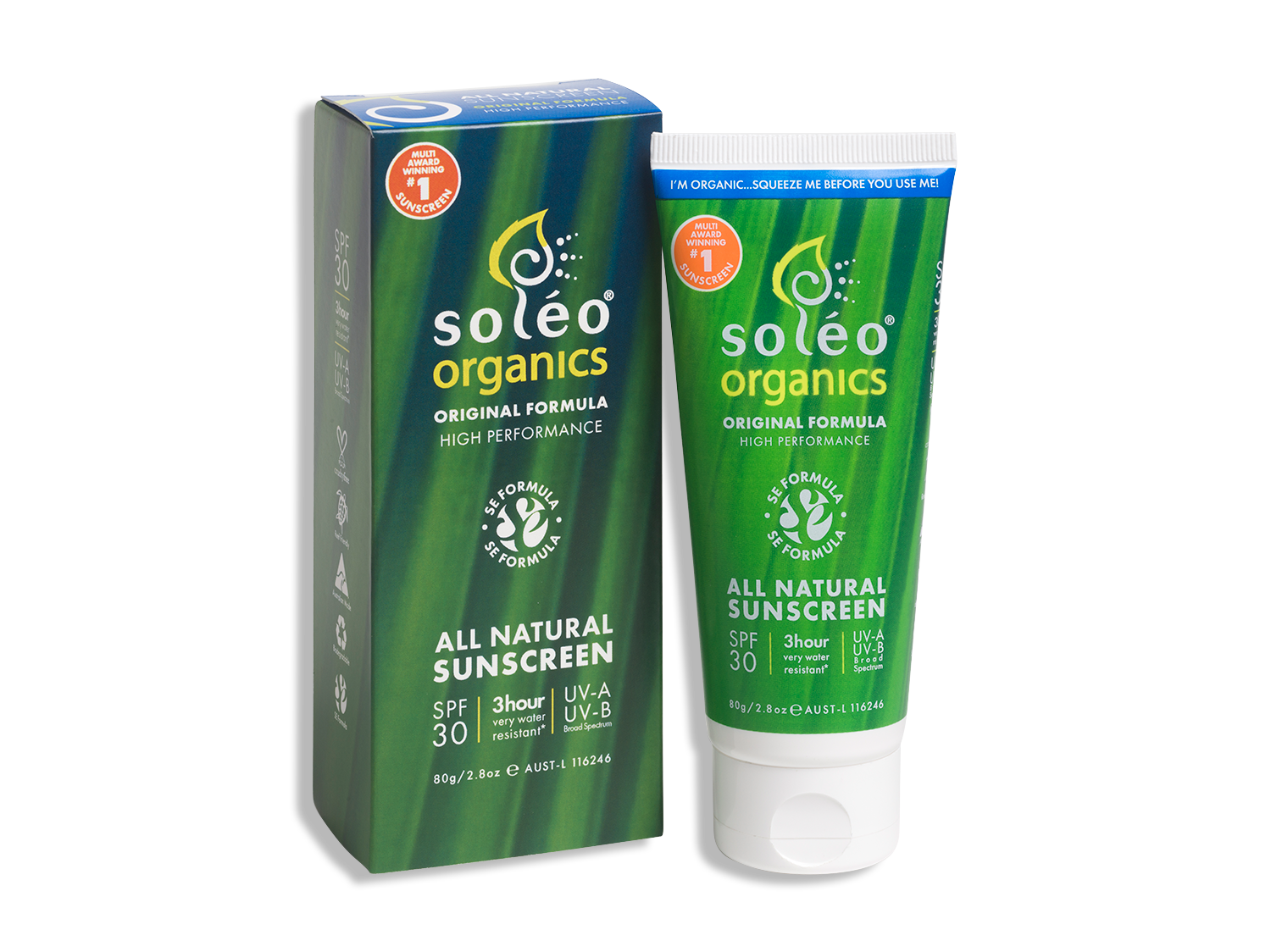 High Performance Natural Sunscreen
"I absolutely love this sunscreen. It is fast absorbing and doesn't leave the skin feeling oily. It is very effective and we have not been sunburned yet as we have been using this brand for many years now. Easy to apply and smells nice. My daughter has eczema and this is the only sunscreen that doesn't cause her rashes." - Ayse K



Soléo Organics Natural Sunscreen is the original sunscreen formula by Soléo Organics. The world's most advanced natural sunscreen formulated using naturopathic principles, using 100% natural ingredients without the use of any synthetic uv-absorbers, preservatives or titanium dioxide.

This original formula sunscreen is highly water resistant, allowing hours of worry free time in the water without reapplying. It is also fortified with Vitamin E through many botanical extracts and helps moisturise the skin naturally and neutrally scented.

Multi Award winning, this sunscreen has been given a number 1 rating by the EWG (Environmental Working Group), meaning our products contain ingredients that are of low hazard to the environment and your health. The EWG aims to bring awareness to the world about the potential impact different chemicals have on human health and the environment.
It is formulated for sensitive skin and use by all ages including pregnant women and babies, hypoallergenic, naturally formulated, reef friendly, biodegradable and recyclable, cruelty free, made in Australia, acts as a natural moisturiser and protects against both UVA and UVB rays.
The expiry on the 40g High Performance Sunscreen is March 2022
AS FEATURED BY

HIGH PERFORMANCE NATURAL SUNSCREEN
Highly Water Resistant
Soléo Organics natural sunscreen formula was designed specifically to be highly water resistant and not come off even under rigorous physical activity, making it perfect activities in the water and caring parents alike.
High Protection
Soléo's range of natural sunscreens use a proprietary zinc formula offering the high protection of a zinc based sunscreen at a high level SPF30 with UVA and UVB ray protection.
Multi Award Winning
Soléo Organics sunscreen has won a series of awards as a top rated natural sunscreen, awarded by Elle Magazine, Sprig.com (Washington Post) and rated a number 1 by the Environmental Working Group.
For Every Application
The Soléo Organics original natural sunscreen, is effective for a huge range of applications, most commonly used in sport and for kids and toddlers. Offering a wide range of versatility.
PEACE OF MIND
All Natural & Organic
Formulated according to Naturopathic principles, using only organic and natural ingredients, totally free of synthetic chemicals.
Free of Chemical Preservatives
Completely free from chemical UV-absorbers, chemical preservatives, titanium dioxide, parabens, synthetic fragrances & colours, nano particles, petrochemicals, PABA, SLS, benzoates, mineral oils and synthetic by-products.
Packed with Antioxidants and Botanical Extracts
Soléo's organic sunscreens are packed with botanical extracts high in antioxidants and fortified with natural oils which moisturise the skin naturally.
Cutting Edge, Broad Spectrum
Soléo Organics sunscreen is a very high protection SPF30, broad spectrum sunscreen, protecting from both UVB rays (sun burn) and UVA rays (aging).
For Every Skin Type
Formulated as a low-irritation, hypoallergenic formula, Soléo's natural sunscreen is ideal for the entire family.
Rubs in Clear
Soléo Organics sunscreens use a proprietary zinc formula designed to rub in clear in the skin.
SAFE GUARDING THE NEXT GENERATION
Recyclable and Biodegradable
Our sunscreen is environmentally friendly from its packaging to its contents. Soléo Organics packaging materials and tubes are made from 100% recyclable materials. The contents of the sunscreen tubes are all 100% natural and biodegradable.
Formulated for Everyone
Soléo's sunscreens are formulated using micro particles instead of the nano particles. Our special formulation of micronised zinc was formulated for sensitive skin, pregnant women and for babies, so that it is suitable for the entire family!
Reef Friendly
Our natural sunscreens are all ocean and fresh water friendly, 100% biodegradable and non-toxic. There are no nano particles in Soléo sunscreens, they are all completely reef friendly.
Cruelty Free
All Soléo Organics products are cruelty free, no testing is done on animals and we hold ourselves and our testing to the highest standards.
Reviews
Customer Reviews
03/08/2022
Ailyn R.

Australia
My favourite sunscreen
High strength sunscreen; it feels good on my skin (not oily) and gives me a good amount of protection and always makes me feel cool and not get burnt on a hot day. Love the fact that it's good for my skin too (natural ingredients!)
02/24/2022
LH2020

Australia
products that work.
I have been using the Soleo Oragnics all natural Suncreen for so many years. Texture felt thick and rich/frosty+glitter white look when you first apply onto the skin, later it settles and blends well with the moisturisers/creams/treatments that sit underneath. I applied everything I need for my skin (face and neck) first then this sun screen last. There is no need for a foundation after that - it lasts all day long till you touch down. My skin never burnt, freckles are protected, any blemishes/spots are healed, and the best is I look really good/so natural /so refreshing under the sun --> no more watery/melting/sweat from the foundation. Congratulation to whoever had come up with this formula!!
01/07/2022
Gloria C.

Hong Kong
high performance sunscreen
The expiry date is too short. The sunscreen will be expire on April. I ordered 2.
01/07/2022
Miho M.

Australia
Great product
Very safe and natural product, all my family use them and we are all happy.
01/06/2022
Ayse K.

Australia
Love it
I absolutely love this sunscreen. It is fast absorbing and doesn't leave the skin feeling oily. It is very effective and we have not been sunburned yet as we have been using this brand for many years now. Easy to apply and smells nice. My daughter has eczema and this is the only sunscreen that doesn't cause her rashes.
FREQUENTLY ASKED QUESTIONS
Free Shipping
Free International Shipping over $85 USD
Worldwide Delivery
International World Class Delivery.